2020 Dodge Durango
---
The 2020 Dodge Durango combines the brand's reputation for power and speed with the very latest technological and engineering advances to create a truly inspiring vehicle.
Search Inventory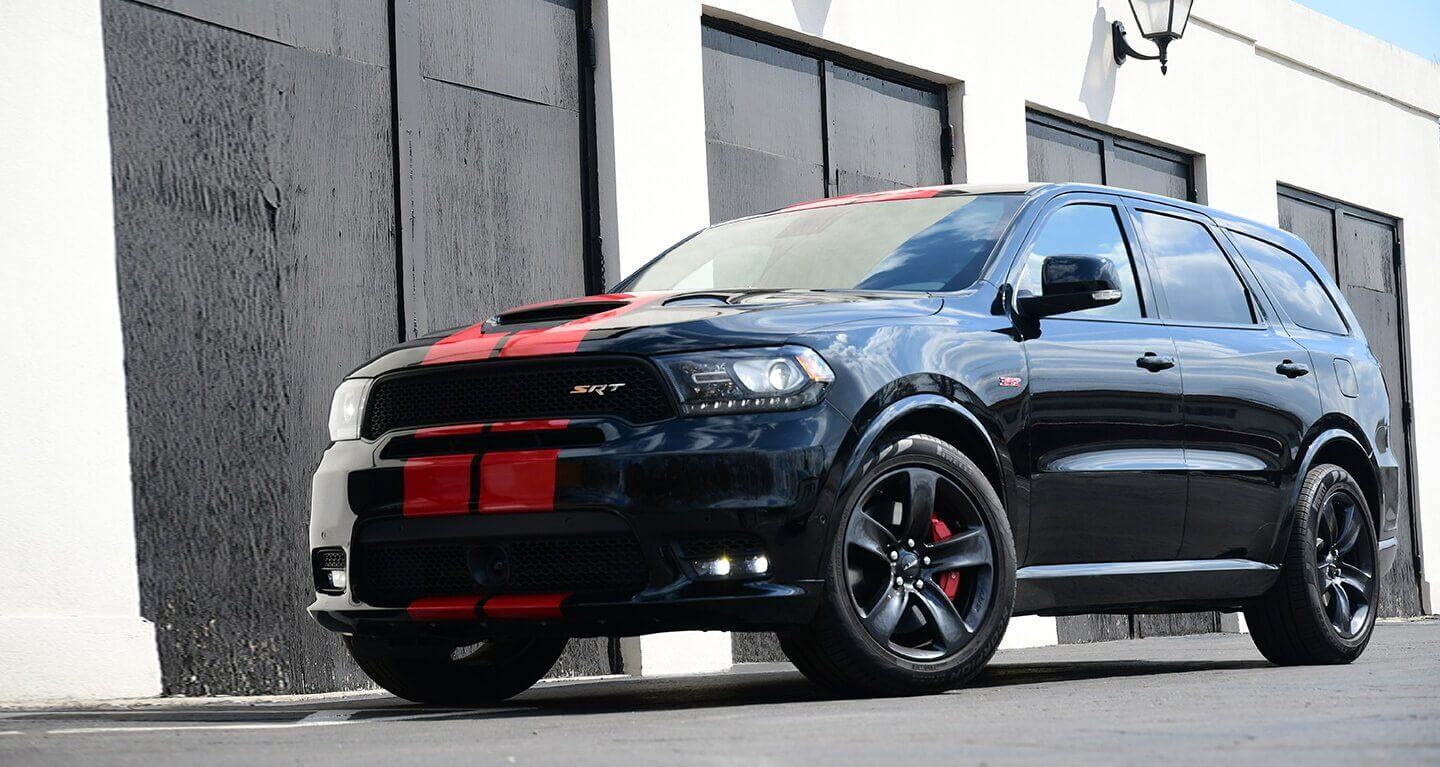 Trim Levels
---
There are plenty of standard exterior features that add to the appeal of the 2020 Dodge Durango, including: • Rear lip spoiler • Wheel well moldings • Body-colored bumpers • Spoiler • Liftgate rear cargo door • Rear step bumper • Heated folding side door mirrors • Body-colored door handles • Galvanized steel/aluminum body These all combine to create an instantly recognizable look.
Engine
---
Dodge is known for the power of its vehicles, and the 2020 Durango is no exception. There is a choice of engines to suit your requirements so you can choose the most practical option. These start with a 3.6-liter 6-cylinder engine that gets 293 horsepower and an 8-speed shiftable automatic transmission. For those who want more power, the 5.7-liter or 6.4-liter V-8 options offer considerably more horsepower at 360 and 475, respectively. This makes them more suited to towing or tough terrain than taking to the highways for road trips or commuting.
Performance
---
The V-6 engine has impressive towing power, with a capacity of 6,200 pounds, whereas the V-8 can tow a load of up to 7,400 with the 5.7-liter Hemi engine. The 6.4-liter option can manage up to 8,700 pounds. The rear-wheel-drive Dodge Durango has a system that shifts weight to the drive axle and balances the load over both sets of wheels, giving it more downforce and exceptional traction. The gas mileage for a rear-wheel-drive vehicle with the V6 engine is 19 in the city and 26 on the highway, which reduces to 18 and 25 miles per gallon, respectively, when the all-wheel-drive option is selected. The 5.7-liter V8 engine manages 14 miles per gallon in the city and 22 on the highway, and the 6.4-liter version achieves 13 miles per gallon in the city and 19 on the highway.
Interior
---
The interior impresses with three rows of seats offering a truly versatile space with more than 50 different configurations. It can fit up to seven passengers, offering plenty of room for cargo or people. The driving experience is made easy with a 7-inch display unit that can show you everything from audio options to fuel economy. The Uconnect system allows you to operate several features using only your voice. The addition of paddle shifters means that you can really keep your hands on the wheel.
Safety Features
---
You can expect to attract attention in more than one way in a 2020 Dodge Durango, with LED Daytime Running Lamps that make you visible no matter what the conditions. You can also opt for automatic high-beam Headlamps that adjust to give you a better view of the road ahead. You can also choose blind-spot monitoring for safer lane changes, adaptive cruise control and limited braking technology, braking support to suit the driving conditions, and electronic stability control for low traction surfaces. With these features, the 2020 Dodge Durango will keep you safe no matter where you are.