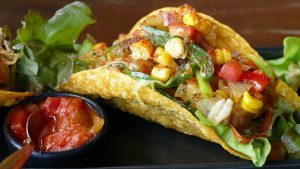 Vacaville is full of hidden gems when it comes to finding delicious Mexican restaurants. Here are a few of the best ones in the area.
Los Reyes Restaurante
Los Reyes serves authentic Mexican cuisine in historic downtown Vacaville. The restaurant has an outdoor patio and is pet-friendly. They have a full bar and happy hour specials starting at 3 p.m. Monday through Friday.
The lunch and dinner menus feature a variety of appetizers. Dishes you can try include tequila-lime shrimp tostadas, a taco sampler, and sweet heat wings, as well as a chorizo, mushroom, and queso dip. They have salads, tamales, enchiladas, and soft tacos. House specialties include tequila-peppercorn chicken and stuffed pasilla, which is a vegan dish. Other dishes that are worth mentioning include enchiladas de mole and chipotle BBQ tri-tip. At Los Reyes, they also serve fajitas, pork carnitas, chile verde, and chile relleno, which are stuffed chiles.
Other plates to choose from include seafood dishes, burritos, nachos, and quesadillas. There are also a variety of delicious desserts.
If you are interested in seeing their brunch menu, you can visit their website.
Pelayo's Mexican Food
The Pelayo's Vacaville location has been around since 1986 and is known for its tasty food and drinks. There is a wide variety of food that is offered at here. Some of their appetizers include inferno wings, stuffed jalapenos, queso, and nachos. If you want all your favorite food on one plate, you can choose between enchiladas, chile relleno, burritos, tamales, tostadas, tacos, cheese quesadillas, and flautas in order to make your own unique platter. Some of their specialties include fajitas, chile verde, carnitas, enchiladas Puerto Vallarta, carne asada, and chimichangas.
There are also a variety of desserts that you can choose from. Some of their desserts include banana supreme, which are caramelized bananas with sugar and cinnamon, or a chimichanga, which is a deep fried tortilla filled with chocolate. They also have lemon drop cheesecake, flan, and sopapilla.
Be sure to check out their daily lunch specials, which are served from 11 a.m.-3 p.m.
Taqueria Los Arcos
Los Arcos has a variety of dishes that include burritos and tacos. Both options give you your choice of meat, which includes grilled steak, grilled chicken, marinated pork, fried pork beef tongue, and fried beef.  Taco selections that are available include a regular taco, super taco, shrimp taco, and fish taco. You can also choose from their selection of burritos, which also consist of your choice of shrimp or veggies.
You can choose between their selection of plates, which include carne asada, pollo asado, chile verde, enchiladas, chile relleno, and chimichangas. They also have taco salad, super nachos, tortas, gorditas, and vampiros.
In addition to their main meals, they also have breakfast burritos and breakfast plates. Egg platters that are available include chorizo con huevos; jamon con huevos, which is a ham and egg plate; and huevos ranchero, or ranchero style eggs. You can also try chilaques rojos, a tortilla and red sauce plate.
These are just a few of the many tasty Mexican restaurants you can choose from in the Vacaville area. Be sure to keep an eye out for more restaurants that serve up fresh and hot dishes that exemplify authentic Mexican cuisine.
Image courtesy of pixabay.com